Course details
【For various banquets】 Popularity No. 1! Gorgeous banquet course 120 minutes with all you can drink 4000 yen ★ Luxurious additional plans too!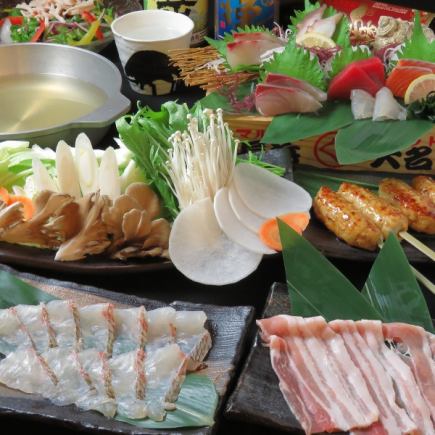 By using a coupon4000 yen
All-you-can-drink available

◆ All you can drink unlimited menu ◆ You can also drink 3 hours for + 500 yen (reservation required)
Reservation deadline

Until 23 o'clock the day before the store visit date
Available days for reservation

Monday - Sunday - Public holidays - Holidays
Course that is very popular for various banquets !! Shabu Shabu ... You can enjoy fresh fish directly bought by Nagahama proudly!
Course menu
◆ ◇ ◆ Course content ◆ ◇ ◆
【Small bowl】 Today's overnight stay
[Cold dishes] Steamed chicken Caesar salad
[Fresh fish] 5 tatami boxes platter Assorted
【Fried food】 Assorted 2 kinds of fried dishes
【Calico】 Grilled chicken meatball with Mitsuse chicken
【Pot】 (Shabu Shabu) Snapper Shabu or Flying Fish Pork Shabu-shabu
Udon udd noodles
All-you-can-drink menu
·beer
· Sapporo Draft Beer 【Black Label (Barrels)】 / Premium Alcohol Free
·Highball
· Dewers Highball / Dewars Ginger / Dewars Tonic / Dewers Cork
·sour
· Blue Shiso Male Plum Sour / Black Plum Sake Sour / Lemon Sour / Punch Lemon Sour / Grapefruit Sour / Setouchi Salt Lemon Sour / Yuzu Honey Sour / Okinawa Sequiner Sour / Collagen Cam Cam Sour / Gianton Sour
·Cocktail
· Mojito / cassis orange / gin tonic / peach ginger / fuzzy navel / cassis oolong / kalua milk / other various
· Non-cock cocktail
· Mango Milk / Kiwi Squash / Non Al Mojito
·Soft drink
· Ginger Ale / Coca Cola / Orange Juice / Oolong Tea / Calpis Water / Green Tea
·wine
· Cabernet S Merlot / Chardonnay Sauvignon
·Sake
· Mr. Fukutoku waste disposal
· Shochu
· Potato / wheat / rice / awamori
·Plum wine
· Black plum wine (rock / soda)
2018/11/21 update